Julia Brennan is the owner of Textile Conservation Services, which provides a complete service for the care and presentation of a wide variety of antique and contemporary textile arts. She has served museums, galleries, private institutions and collectors since 1990. Ms. Brennan trained at the Textile Museum, Washington, DC, and is a Professional Associate of the American Institute for Conservation and Historic and Artistic Works. She is also an ARCA Washington DC Correspondent and a member of the Textile Society of America, Washington Conservation Guild, the National Trust for Historic Preservation.

Textile Conservation Services specializes in the transformation of textiles into safely and beautifully displayed multi-dimensional objects for the wall. A unique aspect of TCS is its close collaboration with custom mount crafters, framers, designers, architects, art consultants, curators and other conservators, to meet the specific needs of each client.

TCS also provides care for collectors and institutions, including surveys and recomendations on exhibition design, cleaning, restoration, storage, and registraion. Julia Brennan does lectures on the conservation of textiles for organizations, historical societies, and foundations.

Please call or e-mail for further information about TCS services, rates and availability. Julia Brennan and her team look forward to discussing your textile concerns or projects, and in some instances may be able to solve your problem in the initial inquiry. Please keep in mind that treatment decisions and cost estimates are not possible without first examining the artifact.

View Partial List of Clients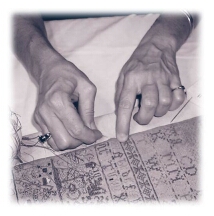 "Our firm has worked with Julia for over fifteen years. Her innovative approach, knowledge and expertise have been invaluable to us on numerous design projects."